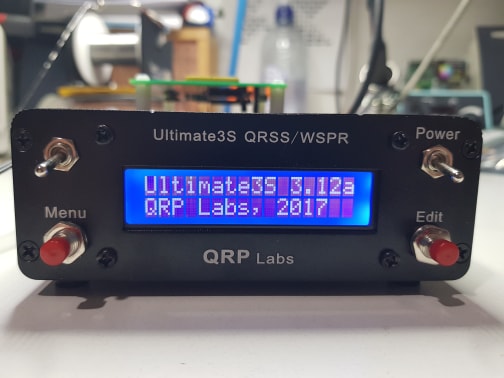 Sooooo. A long time ago I discovered that I enjoyed using the Weak Signal Propagation Reporter (WSPR) to see how open various bands were during the day. I even went to various parks at lunchtime to set up a WSPR station to see where I could get to. I enjoyed it so much that I brought a kit from QRP Labs and *mostly* built it. Then I moved house……
Fast forward to today. It's Christmas Holidays here, and the project finally reappeared and has leveled up to "I'm Still Shiny – MAKE ME!!!" status.
I had mostly completed the kit, making 80m, 40m, and 10m filter kits. It seems like I went all out and spent some well earned Work Clock Making funds (http://www.dougswordclocks.com) (I make clocks in my spare time, it funds my other hobbies). All I needed to do was to calibrate the transmitter and set the PA Bias and perform software configuration. A quick test shows that it trivially puts out about 400mW into a 50 Ohm load, so thats a good thing.
Here are a couple of photos.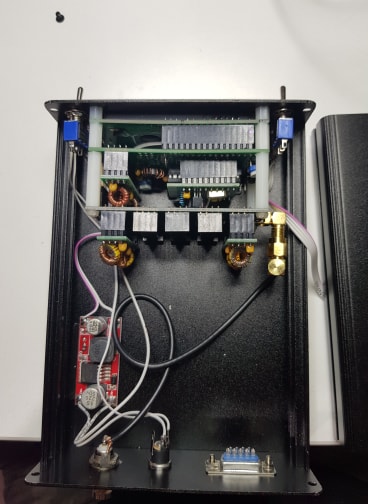 Filters
I really like the use of a switched Bandpass filter board – In all, there are 6 available filter boards that can be used (1 on the original board, and 5 on the switching board) – This allows the device to be frequency agile without any mucking around.
I have 6 filters available (Filter number one on the Switched Filter board has to be the highest frequency);
Filter 0 – 80m – located on the transmitter board
Filter 1 – 10m
Filter 2 – Not used (Will be 15m)
Filter 3 – Not used (Will be 20m)
Filter 4 – Not used (Will be 30m)
Filter 5 – 40m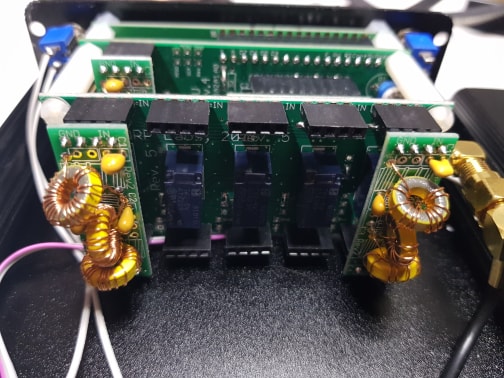 GPS
I ordered the GPS option – It gives me a really accurate clock (UTC) as well as automatically calibrating the device so that the transmission frequency is always correct. It had to be mounted outside of the metal enclosure so that it could see any satellites overhead.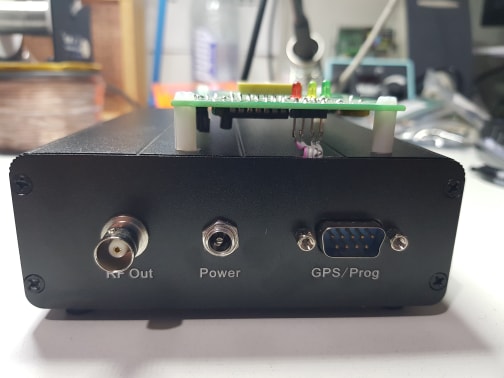 For reference, it is broadcasting using the WSPR protocol on 7.040200 Mhz, which is being received by a couple of southern Australian stations here in the middle of the day, Victoria and Tasmania – from here in Canberra;
| Timestamp | Call | MHz | Grid | Pwr | Reporter | RGrid | km | az |
| --- | --- | --- | --- | --- | --- | --- | --- | --- |
| 2019-12-28 04:42 | VK1ZDJ | 7.040201 | QF44 | 0.02 | VK7JJ | QE38lr | 663 | 195 |
| 2019-12-28 04:42 | VK1ZDJ | 7.040198 | QF44 | 0.02 | VK3KHZ | QF22pe | 415 | 231 |
In all, I feel that it isn't too shabby, and I am waiting to see how well it works for the next 24 hour period.
Of course, I still have to build a couple of low pass filters and the receiver module – then I might be able to actively participate in receiving broadcasts in stead of just chucking RF out to the ionosphere to see what happens. But that's a task for another day 🙂
Useful Links:
QRP Labs Ultimate 3 Kit: https://www.qrp-labs.com/ultimate3/u3s.html